Sisoft at HIMSS ME 2013 Saudi Arabia

Held in Four Seasons Hotel in Riyadh, capital city of Saudi Arabia Kingdom, between 30 April – 1 May, HIMSS Middle East 2013 gathered professionals in health information systems and technology sector. Sisoft Health Information Systems attended the event and shared its new products and solutions with health professionals in Middle East. Dr. Necat Cakmak Deputy General Manager and Nejat Unsal Director of International Affairs attended the event on behalf of Sisoft Healthcare Information Systems.

Within the scope of the event, Dr. Hakkı Öztürk General Manager of General Directorate of Health Information Systems of Ministry of Health, Dr. Mahir Ülgü Manager of Standard and Accreditation Department, and Dr. Muhammet İkbal Gültekin Manager of Management Support Division visited Sisoft's booth at event area. Şimşek Mert, Management Coordinator of Health Information Systems mentioned about the health infrastructure of Turkey in his speech. He also emphasized the importance of cloud technology and stated that costs can be reduced at substantial levels with the use of cloud technology which has been implemented in a Hospital in Ankara (Gazi Mustafa Kemal Public Hospital) for the first time in Turkey.


H. Stephen Lieber also made gave his speech as part of the HIMSS Middle Ease 2013 event and stated that Saudi Arabia has the largest economy at Gulf and developments and improvements in health sector are of great importance for this region.

Lieber also added that electronic health records are very important for information sharing among health professionals. .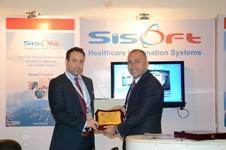 Al Yemeni, PhD, Advisor to the Minister of Health and Supervisor of ICT, Ministry of Health, Riyadh, Saudi Arabia discussed the Kingdom's significant challenges in rolling out successful healthcare IT strategies across the most populous nation in the Middle East.

Dr. Mohammed R Al Yemeni, PhD, Advisor to the Minister of Health and Supervisor of ICT, at the Saudi Arabian Ministry of Health, said, "HIMSS comprises a detailed line-up of international speakers and exhibitors within this highly specialized field. With a leadership summit, health IT conference and exhibition, the event gathered international and regional experts and decision-makers in healthcare IT together in Riyadh," he said.


Other sessions addressed numerous issues relevant to healthcare IT professionals including interoperability, establishing KPIs, implementing best-practice and optimal use of electronic health information and industry intelligence.