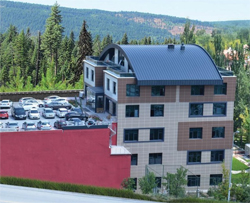 SSisoft, founded in Sivas in 1987 by Ömer Siso under the title "Çözüm Bilgisayar incorporated in 1989..
We started to develop our softwares in those years. Çözüm Eczane (Pharmacy) and Medication Tracking which are the first DOS-based softwares in 1988, upon request of Op. Dr. Ahmet ÜSTÜN, Head Physician during those dates, were used in SII Tokat Hospital through BASIC. Due to data storage and capacity problems, codes are developed again via dBase. When it's required to use a Main Engine so as to perform it with more than one terminal, dBase is found overpriced, so it's decided to use Clipper Summer 87 for all those transactions.
When we started to operate our first hospital automation at the same hospital in 1991, we had justified proud of being the first in that area in Turkey. After 1997, DOS-based softwares had been replaced with the softwares which are Windows -based and operating with Oracle. This intensive process which was composed of concern of being the best and fear of being afloat and which contains always the challenge inside, supported our claim of being the leading in health IT sector with qualified & secure softwares and high-powered management structure.
In order to enable accessibility and communication facilities, our company which had been carrying its business in METU-TECH since 2003 brought its name "Çözüm Bilgisayar" into conformity with our abroad company "Sisoft Healthcare Information Systems" and changed as "Sisoft Sağlık Bilgi Sistemleri".
Sisoft introduced its Next Generation web-based software with Trademark Sisohbys (Sisocare formerly Sisohis) and Motto "Operating System and Web Browser Independence" to healthcare institutions. It has already become No: 1 by means of many features such as ease of use, visual interface, multilingual, mobile confirmation, electronic signature, etc... Besides Linux, Sisoft WEB HIS which works with high performance via PARDUS developed by Tübitak (The Scientific and Technological Research Council of Turkey) received domestic and international appreciations.
We aimed at providing service also in international area so as to contribute to the development of our country's international competition. We launched a full-scale progress so as to establish an international competition and to provide software services for the countries in different geographies in a wide range in the final half of the year 2010.
We offered 3rd Generation Hospital Information Management System which is web-based and which has J2EE architecture to all healthcare institutions. We continue to provide service for our 2nd Generation working on Windows as well.
Sisofamily was offered (Web-based Family Practice Information System) to all family physicians.
Sisoedms (Electronic Document Management System) with unique features was offered to all institutions and organizations. We get certified with TSE 13298 (Turkish Standards Institution).
Sisopacs which is successfully implemented and used in healthcare institutions is registered under TİTUB and certified with CE and IHE which is an international compliance. By offering 3D feature, our PACS/DICOM which was developed by our R&D Department competes with international PACS producers.
Sisomobile removed dependency of users to desktop computers. We offered Sisoft MCA application (Medical Clinic Assistant), Sisoft iPhone/iPad and Android Applications to healthcare professionals. You can download our Sisomobile application from iTunes free of charge.
We renewed our trademarks and image so as to make everybody use our products and to share our experience in international area. In order to prevent character problems with our former title "Çözüm Bilgisayar", we changed our title as Sisoft. We accorded the name of our flagship registered as "Sisoft Sağlık Bilgi Sistemleri" with our foreign branch office "Sisoft Healthcare Information Systems". We completely renewed and renovated our company by gaining ground with new vision, new expectations, progressive staff and references in order to produce unique and genuine products that have an advanced technology.