Featuring the visual part of web-based, graphic interface software, its functionality obtained a well organized "harmony".
How is Medical Clinic Assistant Produced?
In consequence of close work of Panasonic and Intel with digital qualified health group; the first Medical Clinic Assistant with Intel atom processor in th world, is developed. Medical Clinic Assistant is designed so as to meet the requirements of doctors and nurses, to be able to reach all the information about patients inside or outside the hospital.
Covering the demand of technical specifications globally is provided, working collectively with leader health institutions, nurses and clinic doctors. Cisco's smart solutions are suggested in the infrastructure of information and communication and in wireless infrastructure.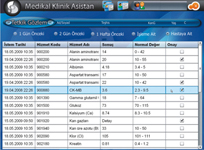 Çözüm HIMS, working collectively with software and design units, health personnel, initialized the use of its web-based graphical interface software that increase user capacity particular to Tablet PC, at the hospitals in accordance with request, expectations and ideas of clinic personnel. Featuring the visual part, its functionality obtained a well organized "harmony". It is put into service of interface users.

A great facility is enabled for computer users at every level in order to make them use easily instead of unnecessary, confusing use. User can use easily and aesthetically even in the first use of the interface and can understand easily for which purpose it is designed.
The user discover firstly how does the system work with a training movie and a help menu.
The blue color that provides silence and facility, is preferred. The blue color that serves thinking, deciding and creating new ideas, the sense of endlessness and limitlessness are enabled. The eye strain that appears because of intensive colors, is prevented and an ease use is provided for the users.
Big animated buttons are designed in order to use with a pen or to finger and to ease using instead of small icons.

An easy quicker and faster access and reach are enabled with big animated buttons, bigger line spacing, (datagrid), bigger radio buttons, combo boxes, check boxes and bigger fonts. Using virtual key pad or making a quick data entry with through slider, recording the symptoms (fever, respiration, pulse, blood pressure) right away, interrogating and reporting graphically are enabled. The curve charts, in critical level, is offered as a visual information.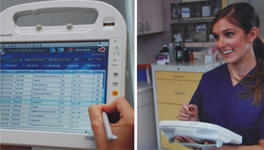 The use of tabs, considering user experience, is prevented in order to reach different interfaces. But, after completing an action on interface, opening in a new tab feature is permitted so as to allow an other action.
Generally, the menus with choose a list box, are used in that application. Vertical and horizontal scrollbars are not used. Group lists are preferred to use instead of long lists. A pop-up keyboard is designed in order to facilitate data entry when clicking with a cursor on texts. With handwriting recognition technology, free text fields, broad text areas are created and recording with handwriting recognition is enabled.
The buttons that the user can follow easily and can change the user when needed and on which the user information appears, are positioned on user interface.

We can transact both on the software and in the device, placing a photograph camera, RFID and barcode reader on interface. It is showed to the user in which department he/she is, during working. Besides, critical summary information of the patient is displayed on the bar.

Vertical and horizontal scrollbars using is enabled for the users. An easy using feature with right and left hand is offered. A delete button is placed in order to repair a mistake when needed. Error messages that show what is wrong and what the problem is?, are designed in order to warn the users when needed. Complicated messages that show all error printout and are hard to understand for the user, are not preferred.
The electronic health records are being registered quickly and synchronously.
The doctors and nurses, without having to use their desktops computers in healthcare institutions, can reach Çözüm HIMS with wireless connection. The picked data can be recorded correctly in a common database with Çözüm Medical Clinic Assistant. Hereby, it is possible now to reach synchronously all the information of the patients on desktop computers and on mobile platforms.
By means of mobile data entry, we prevent the mistakes while writing the information that can be unreadable as well, in the papers at the patient bedside and so it provides an exact data entry.
Sağlık kuruluşunda daha iyi bir koordinasyon sağlayabilmek için gerçek durum ile kayıtlı veriler arasında senkronizasyon sağlanıyor. MCA'nın, Wireless LAN, Wireless WAN (3. Nesil HSDPA), Bluetooth özellikleri sayesinde geniş iletişim olanaklarına sahip olunuyor.
It enables a synchronization between facts and recorded data in order to provide a better coordination in a healthcare institution. By means of features of MCA as Wireless LAN, Wireless WAN (3rd Generation HSDPA), Bluetooth, it provides a wide area connection.
It enables doctors to work as location free and time independent.
The doctors with a busy schedule, can reach and see, as mobile, patient data, radiologic images, laboratory results, medical scale results during daily routine controls. Without forgetting their opinions about their patients, demands and diagnosis, and without making a mistake and losing information, they can make data entry and interrogation and they can display.
It increases efficiency, providing the doctors to realize necessary actions for their patients in order to interrogate. The doctors and nurses will be able to have more time for their own works with preventing unnecessary time losses of the doctors and nurses. It provides more security and safety, better clinical work flow and the optimization of time resources.
It is possible to reach the examination information of the patient in mobile media.

It offers a wireless access with its WIFI and Bluetooth sensors. It is possible to reach all patient information at every points via Internet. The Fever, Pulse, Blood Pressure, Respiration and Body Care of the patient can be seen and followed. The patient treatment note, medicine and materials that are used, can be displayed in detail (dose, time etc.).
It is possible to search and see all lists like total number of beds, patient information, discharging from the hospital in detail.
 It prevents medical errors.
MIt prevents medical errors and lack of informations that can be occurred because of carelessness, forgetfulness during data entry, recording and following processes.

It enables business processes to accelerate and workload to decrease because of providing instantly data entry and displaying data entry, reducing medical errors, thus, personnel's satisfaction and income increase.
The rate of exact diagnosis and treatment increases

It offers quicker electronic health data entry and a real time examination in patient examination room, with mobile data entry, diagnosis, treatment, following processes in an electronic environment. Increasing the rate of exact diagnosis and treatment, it activates information management. Collecting, sending and communication of medical data can be performed with Medical Clinic Assistant. It offers the feature of real time interrogating of hospital personnel and patients. Increasing the rate of exact diagnosis and treatment, it activates information management.

Collecting, sending and communication of medical data can be performed with Medical Clinic Assistant. It provides a high operational efficiency to healthcare specialists.

It enables quicker and faster data entry by means of its digital pen and touch-operated screen.
Converting the handwriting with digital pen into a proper text by means of character recognition system; it enables the patient to perform his/her actions quickly without losing time. So it prevents data loss. All data that are entered with handwriting, is transmitted into an electronic environment immediately and is recorded in database.
By means of high resolution and 10.4 inch screen LCD screen that has the feature of touch-operated and digitizer; it enables quicker and faster data entry. (when we approach Digital Pen on screen, digitizer begins to operate and it closes touch-operated screen, if not it returns to touch-operated mode again. As per order, you can close touch-operated feature and it can work only on digitizer mode).

With touch-operated screen pen, mouse actions can be performed. Touch-operated screen can be used with/without a glove. Using digital pen, realizing markings in a few second, accelerates the actions with keyboard and mouse.
It is being used easier than Desktops and Notebooks.
It provides the features as handwriting noting, data entry, Turkish character recognition, using advantage in every environment, all the way and converting the audio into a text. By means of these features, it enables quicker and truer data entry than desktops.
It provides an intra-hospital communication with VoIP.
The doctors and nurses can communicate free of charge each other or with the doctor and nurses in other services with the help of MCA (via Bluetooth Earphone).
The doctors and nurses, using Medical Clinic Assistant, instant connecting, can connect intra-corporation without searching phone number and the place of doctor in order to consult.

BIt provides to connect particularly to related specialist in a short time in emergency and intensive care units. It accelerates the access of the patients, connecting in a mobile environment with visual-aided IP Phones.

Data can be transmitted with peripheral medical devices
Data can be transmitted to Çözüm HIMS through MCA and simple peripheral medical devices that measure numerically blood sugar, high blood pressure with Bluetooth feature. We can reach patient information without the need for other interface. This feature accelerates the actions, providing information transmitting directly or indirectly.
Identity authentication is enabled with integrated fingerprint reader. You can access to Çözüm MCA by logging in with user name and password, by RFID labeled personnel card, by facial recognition system or by fingerprint reader. The fingerprint record on MCA, comparing with the identity card informations, can be recognized by an integrated fingerprint reader. User info is recorded in all actions after being recognized by the system.

The pictures taken by an integrated camera are being stored in health files.
AIt is possible to see and to follow the healing process of the wounded area of the patient after taking its picture with a camera, featured 2 MP, auto focus, 2 lighting led. The camera, with two lighting led, provides to record the object.


The patient pictures are being stored in health files. It provides to see and follow the healing process of the wound, comparing the pictures, and if the patient is treated by an other doctor, it will be possible to see the pictures as well.

Besides, after taking the picture, it can be positioned on the patient card. Thus, it reduces the risk of giving the wrong medicine to a wrong patient while we are seeing identity and service information with photo. 
PACS pictures are accessible.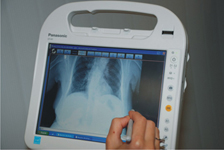 You can reach to numerical pictures as mobile like ultrasonography, angiography, magnetic resonance, mammography etc. on archive server.
When needed, the doctors or radiologists can display PACS on MCA interface. We do not need anymore the large areas to store classical x-ray films at the hospitals.
The radiologic pictures of the patient (taking care of personal informations)can be sent to healthcare institutions on extra-net. We can benefit from the specialists with sharing the information and pictures with other doctors or hospitals.
RFID or Barcode labels can be matched up through mobile platforms.
Hastalara pasif RFID çipli hasta kimlik bileziği de veriliyor.
RFID or Baracode labels on medicine or blood plastic bags and RFID or Barcode labels can be matched up through mobile platforms.
The patient/medicine matching and the document follow-up can be performed in mobile media depending upon patients' treatment processes. RFID or two-dimensional barcode readers matching while reading medicine labels, prevents wrong medicine data entry and wrong treatments
The patient/medicine matching can be performed through mobile platforms. Blood products on blood centers can be labeled correctly, containing storage conditions, date etc. Thus, medical mistakes (giving the new-born baby to another family, wrong blood transfusion, confusing blood, urine pathology analysis reports etc.) can be prevented.  
By means of active RFID label, it is possible to define the position and find where the device is (device location) in emergency cases.
The bracelet with passive RFID chip is being given to the patients.
     The identity bracelets are being recognized by the system through contactless smart card readers (RFID) and two-dimensional barcode readers.

The doctors and the nurses can see and follow all health and diseases records and histories with the help of recognizing identity. The informations (Allergy, blood pressure, pulse, fever etc.) can be stored in these smart cards. (diseases that the patient had, examination and film results, medicines, social insurance informations, donating organ informations, addictions, treatments etc.)
     The doctor order operations are being made in an electronic environment.
The patients' previously requests and units can be easily seen. Making a list on search medicine screen we can record medicine orders and choose a medicine on favorites lists containing all information as period, number, usage etc.). Diet order operations and previous diet and calorie orders can be seen according to the meal. Diets can be chosen on favorites lists and be copied on previous day and be pasted on the next day. New diet operations can be operated. It is possible to see patient's life symptoms as date and time. (fever, pulse, blood pressure, respiration etc.).

Laboratory tests demands, like radiology, pathology, test examination, medicine, can be performed.

It works integratedly with LIMS (Laboratory Information Management System).
The software aims to perform patient nursing operations systematically and faultlessly.
Test examination observations can be displayed according to normal value results and approval conditions with Demand Date, Service Code, Service Name. All patient informations 12 days ago or one week ago can be listed. New examination demands can be recorded after choosing in the examination group. Laboratory, radiology (PACS) , pathology results and time-scale reports can be operated graphically.

It is possible to reach to the storage information of medicine and materials.

It provides convenience for pharmacy units. Recognizing the barcodes with barcode readers enables the system a quicker and easier data entry.

The services that the patient has received, can be interrogated with their date and code. The patient's medical history can be seen as date, service, doctor, result etc. Service informations (service, admission no, admission date, diagnosis, doctor etc.) can also be seen.

The doctor consultation operations can be operated as mobile in an electronic environment.

In hard cases, choosing the related specialist on the list, consultation demand can be made for consultation operations.
   
The consultation reasons, previous consultation informations and consultation decisions can be displayed on consultation interface.

Performing consultation operations in a mobile environment, providing to obtain truer results, accelerates commenting and reporting time.

It provides to compare radiologic pictures, scar and physical image photos, to analyze retrospectively, to comprehend better the healing process for the doctor and to diagnose correctly and quickly.

Patient Anamnesis Form is being schemed.
HWhile nursing operations are being performed quickly and properly, the printed forms, related to nursing operations, are being filled in, on touch-operated screen and can be printed. The reports as epicrisis surgery notes etc. can be formed. (record is being made with menu keys instead of writing with a pen or a keyboard) Nurse follow-up forms (Nurse Observation Form, Liquid Follow-up Form, Hospital Returnee and Training Scheme etc.) can be operated.

The patient's medical history can be seen in detail.
The patient's physical informations are being recorded in detail in just one second.
The records related to allergy, (food, medicine etc.), interrogations, warnings and detailed pain follow-up can be made.
The patient's medical history, (complaint, past, physical examination, treatment, history, resume, result and epicrisis note) can be followed in detail in a screen. It warns in case of a medicine allergy, a diabetic patient that went into a coma in intensive care unit.
The patients' life symptoms are being showed with a curve chart.

The patients' life symptoms can be recorded by nurses with the help of the software on MCA. It is possible to record, to interrogate and to report the symptoms (fever, respiration, pulse, blood pressure) graphically, using virtual key pad or through slider. We can display curve charts as well.
It works integratedly with Medical Dictate and Voice Record System. The doctors, without needing to write examination and treatment informations down or on a computer, can record the informations as audio visual. By means of Çözüm Medical Dictate or Çözüm Medical Audio Recording System, patient information, converted into a text, are being recorded automatically in database.

The system that works integratedly with Çözüm Speech Recognition System, enables the symptoms, diagnosis to being recorded in database. So, it prevents information loose and mistakes. It is possible to prepare the report (recording after being recorded in an electronic environment) while speaking.

It provides reliable data creating and decision-making period.

It helps clinic decision-making systems, the doctors, nurses and other healthcare personnel. So all the decision makers are able to operate that process more productively (data entry while sitting) as location and time free after seeing electronic patient records.

While it is reducing making medical mistake, accessing to information with the help of mobile technologies, it enhances the service quality and patient security
 It offers an ergonomic design usability feature.

 It is designed ergonomically in order to facilitate the usage at the hospitals. The device on which a carrying handle and an ergonomic carrying belt are found, can be moved everywhere with a weight of 1.5 kg.

    It has a durable structure in case we run it down from 90 cm. Its battery life is very long (over 10 hours). The two batteries can be changed while they are being used, thus service interrupt is being prevented. It is possible to charge it automatically due to its practical dock.
It is possible to disinfect.
MCA, produced without a fan, has docking connection and DC input in order to disinfect and to be able to be dust-proof and water-proof. Besides, it has a heat dissipator layer. This layer is composed of magnesium.

It has a special polycarbonate body that are being used in healthcare institutions against chemicals and disinfectants.    
Not having a fan on it, it provides a necessity of security and hygiene in surgery rooms and intensive care units at the hospitals.
Besides, it has a easily cleanable and disinfectable structure and design.
The device, designed as planiform so as to prevent hospital infections, is water-proof, washable and cleanable with preserver covers.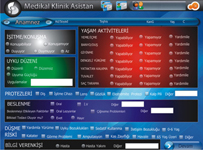 It has a time adjustable cleaning reminder.
It has already an application software inside with a time adjustable cleaning reminder.

The cleaning reminder can be adjusted according to sterile and using conditions. It is not permitted to use the dirty device without cleaning.

The cleaning reminder can be adjusted while logging in the system, changing the battery at certain intervals. (While cleaning, uncleanable part is indicated. The user that operates, is also indicated)